In the words of Def Leppard, pour some sugar on me. In the words of Tiff, pour less sugar in my food.
Many of you know Americans consume loads of sugar. According to FitSugar:
According to the American Heart Association, eating too much is contributing to a plethora of health issues including obesity, type 2 diabetes, high blood pressure, heart disease, and stroke. Women are urged to cut back and consume no more than 100 calories of added processed sugar each day, which is equal to six teaspoons (25 grams).
WebMD has shed some less than sweet insight into refined sugar. I'll let you check that out for yourself.
As you can see, too much added and/or refined sugar aren't fun. You know what is fun? Learning how much sugar is in some everyday foods and treats, of course! You know what kind of "fun" I'm talking about – it's like smelling the stinky-ness of your gym bag fun or looking at the blackheads on your Biore pore strip fun.
Here are just a few foods that I found interesting…
One Can of Coke (Not even the Mega Gulp at your favorite gas station) – 39 grams
source
***Diet Coke isn't so great either since the artificial sweeteners can make your body think it's getting sugar. When it doesn't, you end up wanting more food. I'm not so sure I buy this argument, but I've heard it numerous times.
Grapes (1 cup) – 14.9 grams (they're not added sugars, but they aren't slow-burn carbs either)
source
Light Yoplait Yogurt – 14 grams
source
Fiber One Oats & Caramel Chewy Bar – 9 grams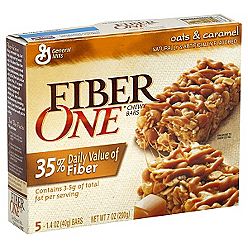 source
Pumpkin Latte (tall, skim, with whip) – 38 grams (37 grams no whip)
source
Despite my pumpkin obsession, I'm not a huge fan of pumpkin lattes. I usually save up for my once (or twice) yearly peppermint mochas instead. Yum!
Did any of these treats surprise you? Do you have any more sugar shockers you can share?
***All sugar counts came from Livestrong.com or Starbuck's website.
By the way, I have to give Lindsey at Cardio Pizza some link love for two reasons.
She has excellent info about self hosting in this post.
Yesterday, I did a great treadmill workout she posted. I almost skipped the gym, but when I realized my legs felt surprisingly refreshed in the morning, I wore them out with this workout.
Tomorrow's post is a fun one, so be sure to check back for it!